Summer is a great time to start working on fellowship and award applications. The Fall fellowship season is busy with most deadlines occurring between August and December. The Office of Graduate Fellowships and Awards has created two new Summer Workshop Series to support graduate students on their journey to identify and apply for funding opportunities. We hope that many of you will join us for our summer workshops! Please note: Space is limited for the Draft-Write-Repeat Writing Workshop Series.
If you have won an external fellowship or award for the current 2022-2023 academic year, we want to celebrate you! Submit your award information here.
---
Fellowship Pro-tip: Why apply for an award when the selection process is so competitive?
It can be easy to have a defeatist attitude about applying for fellowships and awards. After all, the reality is that most people won't be selected because there are always more applications than there are funding opportunities. But focusing only on whether you get the award ignores all the valuable skills and perspectives you gain through the application process itself. At the Office of Graduate Fellowships and Awards, we think it is important to reflect on and appreciate the fellowships and awards application process as a critical aspect of your development as scholars and professionals. Regardless of whether you get the funding, putting together a strong application is a chance to develop your communication, writing, and project management skills, to engage your faculty and peers in refining your research, and to take stock of your accomplishments and goals. In short, applying = experience, and that experience will make you more prepared and competitive the next time you apply and as you move into your future career!
May Jingyan Wang, doctorate student in the Program of Sport Management, participated in the Draft-Write-Repeat Writing Workshop Series in Summer 2022 where she worked on an application for a fellowship with the American Association of University Women (AAUW). In this pro-tip, Jingyan shares some great insight about the impact that the application process for the AAUW International Fellowship had on her:
"When I submitted my application for the AAUW International Fellowship, after six months of preparation, writing, and rewriting, I felt a huge sense of accomplishment. First of all, I was able to complete a complicated task with resilience and hone my planning and organizational skills. There are many moving pieces to an application, such as essays, transcripts, budget, and recommendations. I think the same skills would be useful in future grant applications that can benefit my entire research life. Secondly, the time I put into thinking and writing helped me reflect on myself and my research. It is especially valuable to pause my busy life and think about how I started, what I am doing, and where I am going. I was able to get a much clearer picture of what my dissertation work would look like after going through the application process. Besides, I am left with a deposit of useful materials I can use for future grant or job opportunities. I feel lucky that I don't have to do everything alone. The OGFA staff and the Writing Center offer great support and resources. I finished the application being more confident about myself and my skills, which will always be valuable despite the result of the selection."
If you are interested in applying for fellowships and awards but don't quite know where to begin, check out the Office of Graduate Fellowships and Awards Let's Meet webpage for more information on how to jumpstart your fellowships and awards journey.
---
Graduate Students in the News
---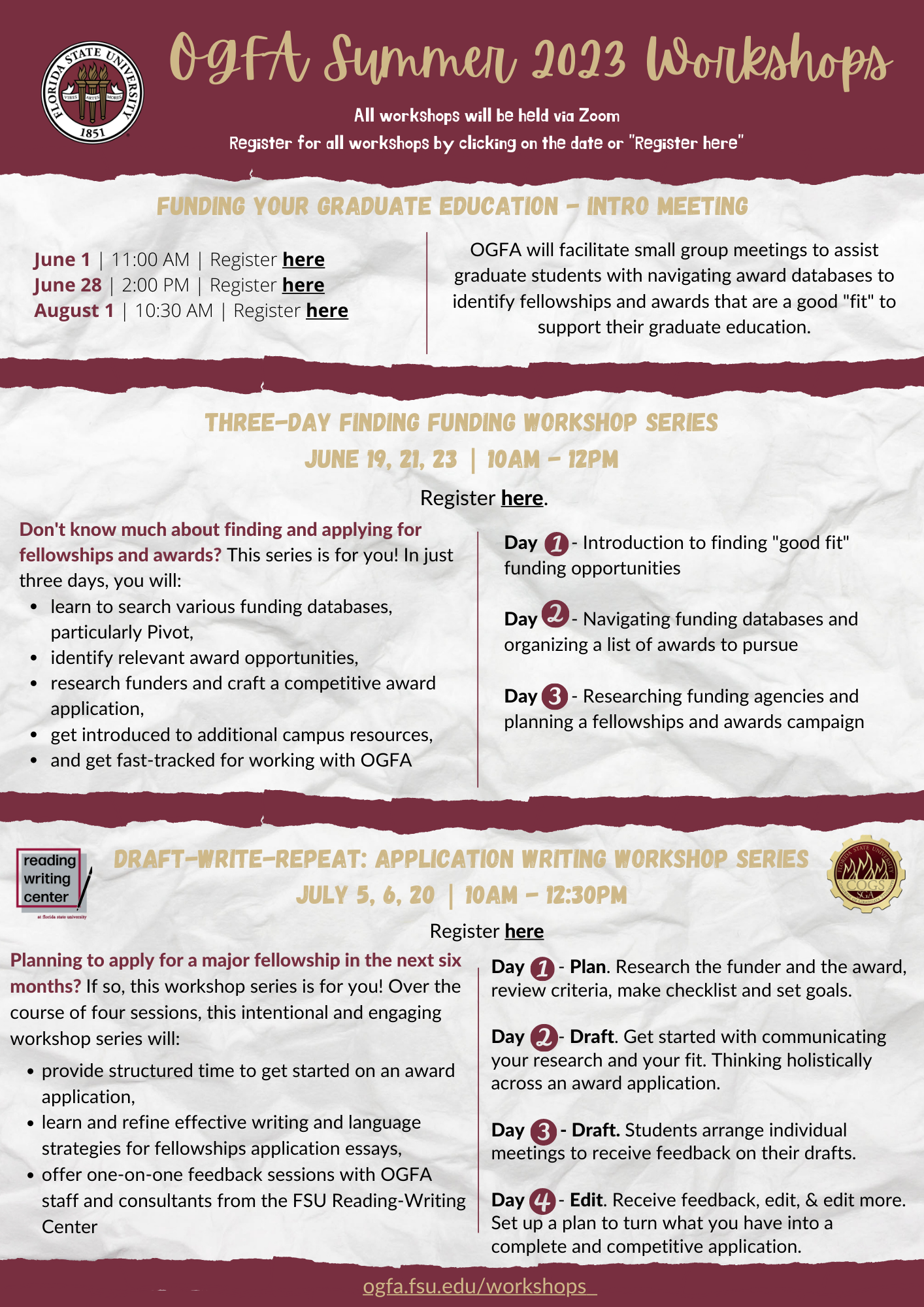 Funding Your Graduate Education: Database Search
OGFA staff will facilitate small group meetings to assist graduate students with navigating award databases to identify fellowships and awards that are a good "fit" to support their graduate education.
June 1 | 11:00 AM | Register here
June 28 | 2:00 PM | Register here
August 1 | 10:30 AM | Register here
 
Three-Day Finding Funding Workshop Series
June 19, 21, and 23 | 10:00 AM - 12:00 PM | Register here
Don't know much about the process of finding and applying for external funding? This workshop series is for you! 
Day 1: Introduction to the process of finding funding opportunities that are a good fit
Day 2: Navigating funding databases and organizing a list of awards
Day 3: Researching funding organizations

 
Draft-Write-Repeat Writing Workshop Series
July 5, 6, and 20 | 10:00 AM - 12:30 PM | Register here
Are you planning to apply for a major competitive fellowship in the next six months? If so, this series is for you! Join OGFA and the Reading-Writing Center for this exciting 4 days of learning and refining effective writing and language strategies for fellowship and award application essays. Space is limited.
Day 1: Plan. Research the funder and the award, review criteria, make checklist and set goals.
Day 2: Draft. Getting started with communicating your research and your fit. Thinking holistically across an application.
Day 3: Students arrange individual meetings with writing consultants to receive feedback on their drafts.
Day 4: Edit. Receive feedback, edit, & edit more. Set up a plan to turn what you have into a complete and competitive application.
---
All award titles below are hyperlinked to the award webpage.
The Short-Term Fellowship Program allows selected candidates to conduct research at the Smithsonian Tropical Research Institute (STRI) throughout the year to receive support and be introduced to tropical research. Fellowships are open to graduate students at any level and provide a stipend to cover living expenses while at STRI ($1,000/month, $3,000 for stipend, a research allowance, and a round-trip coach airfare).
Deadline: Feb/April/July/Oct 15
IHS offers a Conference Accelerator Grant for master's and doctoral students who have not advanced to candidacy. The $2,000 grants provide funding needed to develop a conference paper. IHS also offers Graduate Sabbatical Grants for advanced doctoral students, providing up to $15,000 to buy out teaching or research responsibilities so a student can devote full attention to dissertation work.
Applications accepted on a rolling basis
Award grants of up to $2,200 each in support of research in the holdings of the Gerald R. Ford Library. Library collections focus on Federal policies, U.S. foreign relations, and national politics in the 1960s and 1970s. There are earlier and later materials depending upon the topic.
Deadline: September 15
This scholarship offers a unique one-on-one mentoring program that focuses on professional development for scholarship recipients. Applicants are not required to be Hispanic but an affinity for the health of Hispanic communities is required. Applications open in June.
Deadline: September, 2023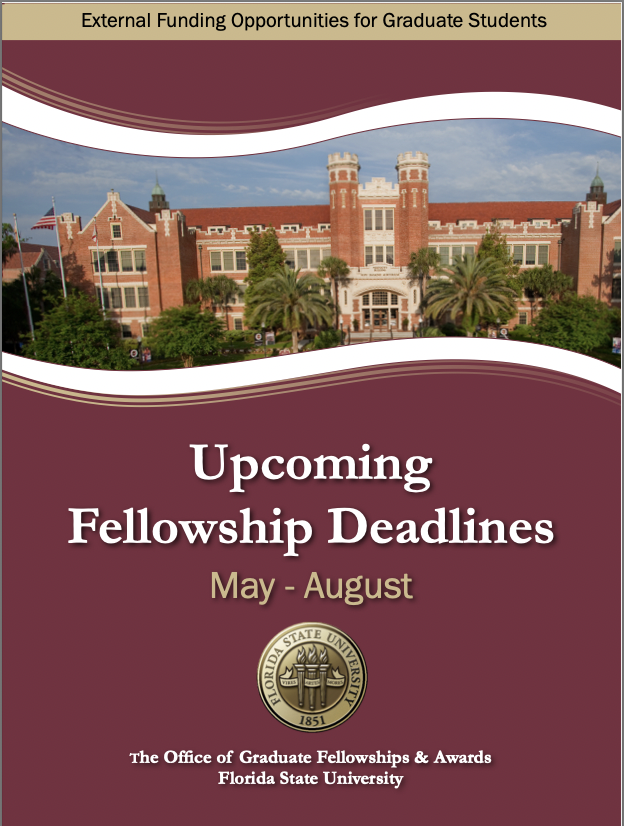 Funding Booklet
---
Celebrating Graduate Education
The work and research in action of graduate students at Florida State University broadly impacts the campus community and the world around us. OGFA initiated the Digital Narratives Project: Grad Impact  to capture and amplify the lived experiences of graduate students at FSU. Check out some of our grad student highlights below.
If you are interested in sharing your experience and research, please submit your profile info here.
Click here to see more #Gradimpact student profiles.
---