Last year was a banner year for FSU graduate students in the fellowships and awards arena, with graduate students receiving over 4.8 million dollars in external fellowships and awards. The Office of Graduate Fellowships and Awards wants to work with you to make the 2023-2024 academic year even more successful!
If you are interested in applying for fellowships and awards but don't quite know where to begin, check out the Office of Graduate Fellowships and Awards Let's Meet webpage for more information on how to jumpstart your fellowships and awards journey.
If you have won an external award for the current academic year, we want to celebrate you. Please submit your award information here.
---
Fellowship Pro-Tip: Communicating Broader Impact in Fellowship Applications
Crafting a strong application for a fellowship or grant requires explaining what you do and why it matters in clear, concise language. Funding agencies want to invest in students who can place their work in a broad context and communicate the "so-what" factor to broad audiences. Some applications will ask for this directly. The National Science Foundation (NSF), for instance, asks for a specific statement of "broader impacts," while Mellon/ACLS applications require a brief statement of the "broader significance of the project for the humanities and related social sciences." Even when not asked directly for such an impact/significance statement, funding agencies and reviewers want to see that you have a broader vision of the impact of your work. Read on to see how two former FSU graduate students thought through and communicated the significance of their work in their successful fellowship/award applications.
Dr. Bess Ruff, former doctoral student in the Department of Geography was awarded the PEO Scholar Award (2021), an NSF INTERN Fellowship, and the Women Divers Hall of Fame Advanced Dive Training Grant. When asked to share advice or guidance on communicating broader impacts in fellowship applications, Dr. Ruff said:
"When writing or talking about the broader impacts of my research, I found success in being specific. To do this, I find it helpful to frame research within the context of a distinct problem or issue with which a member of the public (i.e., a reviewer) would be familiar. For example, I contextualize my research on marine aquaculture development through the lenses of a growing global population, rising demand for seafood, and declining wild fisheries. I follow up this framing by highlighting 1) how my work specifically addresses or confronts these issues, and 2) who specifically will use and/or benefit from the findings of my work and how. I think this strategy really resonates with reviewers and interviewers because it anchors your research in a narrative they can easily follow, and they can envision the distinct ways in which your research will be impactful. It also shows that you have given deliberate and purposeful consideration to the societal implications of your work."
Dr. Natali Ramírez-Bullón, former doctoral student in the Department of Biological Science, was awarded the AAUW American Dissertation Fellowship (2021), the Katherine S. McCarter Graduate Student Policy Award (2020), the National Socio-Environmental Synthesis Center Graduate Pursuits Award (2018), and the Garden Club of America Catherine H. Beattie Fellowship in Conservation Horticulture (2014). When asked to share advice or guidance on communicating broader impacts in fellowship applications, Dr. Ramírez-Bullón said:
"When I am preparing my application for any grant or fellowship, I always read the objectives and mission of the funding agency so I can align my application to their goals. In the case of AAUW, their mission is "to advance gender equity for women and girls through research, education, and advocacy."  I used that as my guideline to select the examples I used to demonstrate my commitment to women. I also incorporated some of those examples into my career goals. For example, I highlighted my commitment to mentoring women to reduce gender disparity in conservation decision-making (my research focuses on conservation biology). I looked for examples where it has been shown that a greater proportion of women in leadership roles increased conservation success. I mentioned my involvement on co-creating our department's first diversity statement and other initiatives. In the commitment to women and girls' section, I shared my personal story about how I perceive gender inequality and what actions I took to try to do my part.
To plan my application, I made a list of all the things I did to help women since middle school. Then I selected the examples that were the most relevant. I chose some that reflected advocacy, leadership, and education and provided examples for each step of my career starting from high school to the present so that I could show a longer term commitment to this issue, which was of central importance for the fellowship."
---
If you are a current FSU student, please register with your FSU email.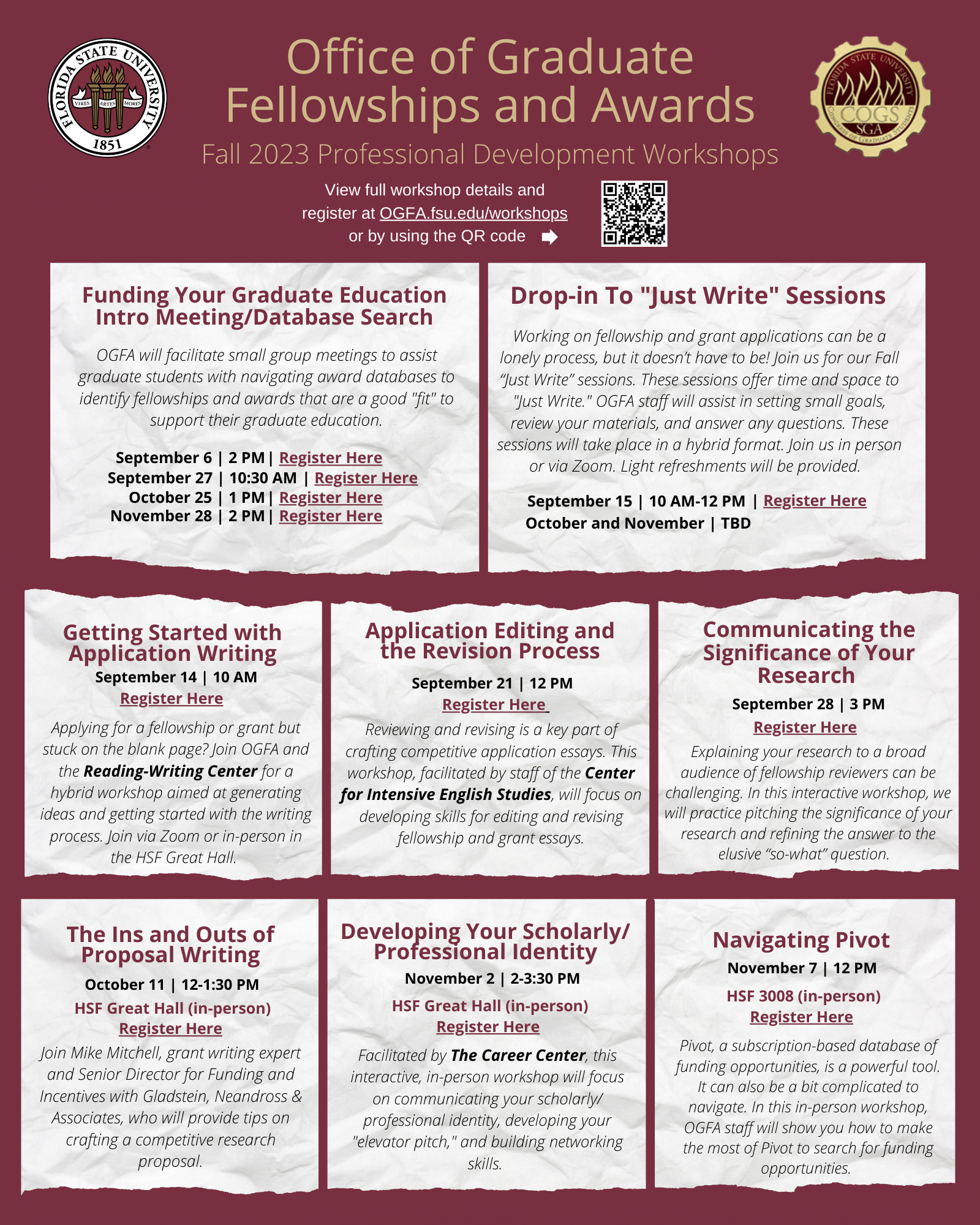 Funding Your Graduate Education: Intro Meeting/Database Search
OGFA staff will facilitate small group meetings to assist graduate students with navigating award databases to identify fellowships and awards that are a good "fit" to support their graduate education.
Getting Started with Application Writing (OGFA/The Reading-Writing Center)
September 14 | 10:00 AM | Register here
Applying for a fellowship or grant but stuck on the blank page? Join OGFA and the Reading-Writing Center for a hybrid workshop aimed at generating ideas, brainstorming and freewriting, and getting started with the writing process. Join via Zoom or in-person in the HSF Nancy H. Marcus Great Hall. 
Application Editing and the Revision Process (CIES)
September 21 | 12:00 PM | Register here
Facilitated by the Center for Intensive English Studies (CIES), this workshop is intended to support English language learners who are interested in developing their fellowship and award application writing and editing skills. Reviewing and revising is a key part of crafting competitive application essays. This workshop will focus on developing skills for editing and revising. 
Communicating the Significance of Your Research
September 21 | 12:00 PM | Register here
Explaining your research to a broad audience of fellowship reviewers can be challenging. In this interactive workshop, we will practice pitching the significance of your research to your target audience and refining the answer to the elusive "so-what" question.
OGFA Fall Networking Event
September 27 | 4:00 - 6:00 PM | HSF Nancy H. Marcus Great Hall | Register here
Join us for an in-person Networking Event aimed at fostering peer to peer interdisciplinary connections and support networks between students interested in applying for EXTERNAL fellowships and awards and students that have already been involved in the process of applying for EXTERNAL fellowships and awards.  Get out of your disciplinary silos, grab a bite to eat, learn about fellowships and awards, and meet other FSU graduate students! 
Drop-in to "Just Write" Sessions
September 15 | 10:00 AM - 12:00 PM | Register here
October | TBD
Working on fellowship and grant applications can be a lonely process, but it doesn't have to be! Join us for our Fall "Just Write" sessions. These sessions offer time and space to "Just Write." OGFA staff will assist in setting small goals, review your materials, and answer any questions. These sessions will take place in a hybrid format. Join us in person or via Zoom. Light refreshments will be provided. 
Developing Your Scholarly/Professional Identity (The Career Center)
November 2 | 2:00 - 3:30 PM | Register here
From fellowship applications to conference presentations to networking events, developing and communicating your scholarly or professional identity is a vital skill. Join OGFA and staff from The Career Center for an interactive, in-person workshop on establishing and pitching your scholarly/professional identity. This workshop will be held in the Nancy H. Marcus Great Hall of the Honors, Scholars, and Fellows building.
Navigating Funding Databases - PIVOT 101
November 7 | 12:00 PM | Register here
Pivot, a subscription-based database of funding opportunities, is a powerful tool for identifying fellowships and awards, but it can also be a bit complicated to navigate. In this workshop, OGFA staff will show you how to make the most of Pivot to search for funding opportunities.
The Ins and Outs of Proposal Writing
October 11 | 12:00 - 1:30 PM | Register here
This workshop will focus on breaking down fellowship application guidelines to identify what is required in a competitive application. Mike Mitchell, grant writing expert and Senior Director for Funding and Incentives with Gladstein, Neandross & Associates, will discuss how to plan and write high impact funding proposals. 
---
All award titles below are hyperlinked to the award webpage.
Please use this link to enroll in OGFA's Fellowships Canvas Courses. We created those sites to guide students through the process of applying for competitive fellowships, scholarships, and awards. Resources include introductions to various funding mechanisms, annotated and supplemental guides designed to assist students in various stages of the fellowship application cycle for each award, webinar links (if available), tips and links to a variety of other resources.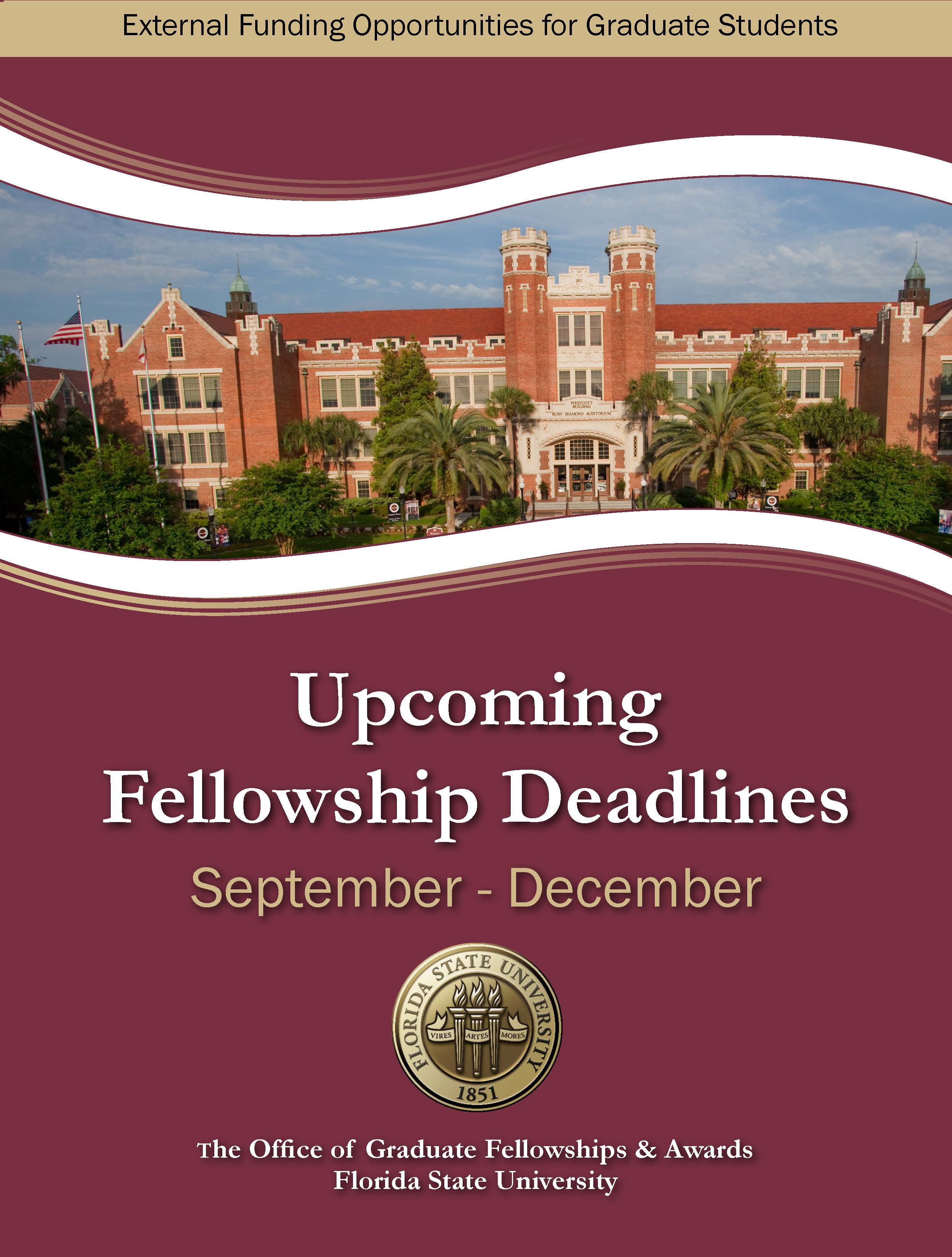 Funding Booklet
---
Graduate Students in the News
---
Celebrating Graduate Education
The work and research in action of graduate students at Florida State University broadly impacts the campus community and the world around us. The Grad Impact: Digital Narratives Project captures and amplifies the lived graduate student experience at FSU. Check out some of our grad student highlights below.
If you are interested in sharing your experience and research, please submit your profile info here.
Click here to see more #Gradimpact student profiles.
---
Are you a doctoral student interested in developing your academic, presentation, and research communication skills? If so, register here to participate in the upcoming Three Minute Thesis (3MT™) competition! Registration is open and closes on Wednesday, September 27, 2023 at 11:59 PM.
3MT™ is a research communication competition developed by The University of Queensland, Australia. This event supports the development of academic, presentation, and research communication skills and supports the capacity of participants to effectively explain their research in language appropriate to an intelligent but non-specialist audience. Doctoral students have three minutes to present a compelling oration on their research topic and its significance. Learn more about the 3MT competition here.
---