Summer 2023 Workshops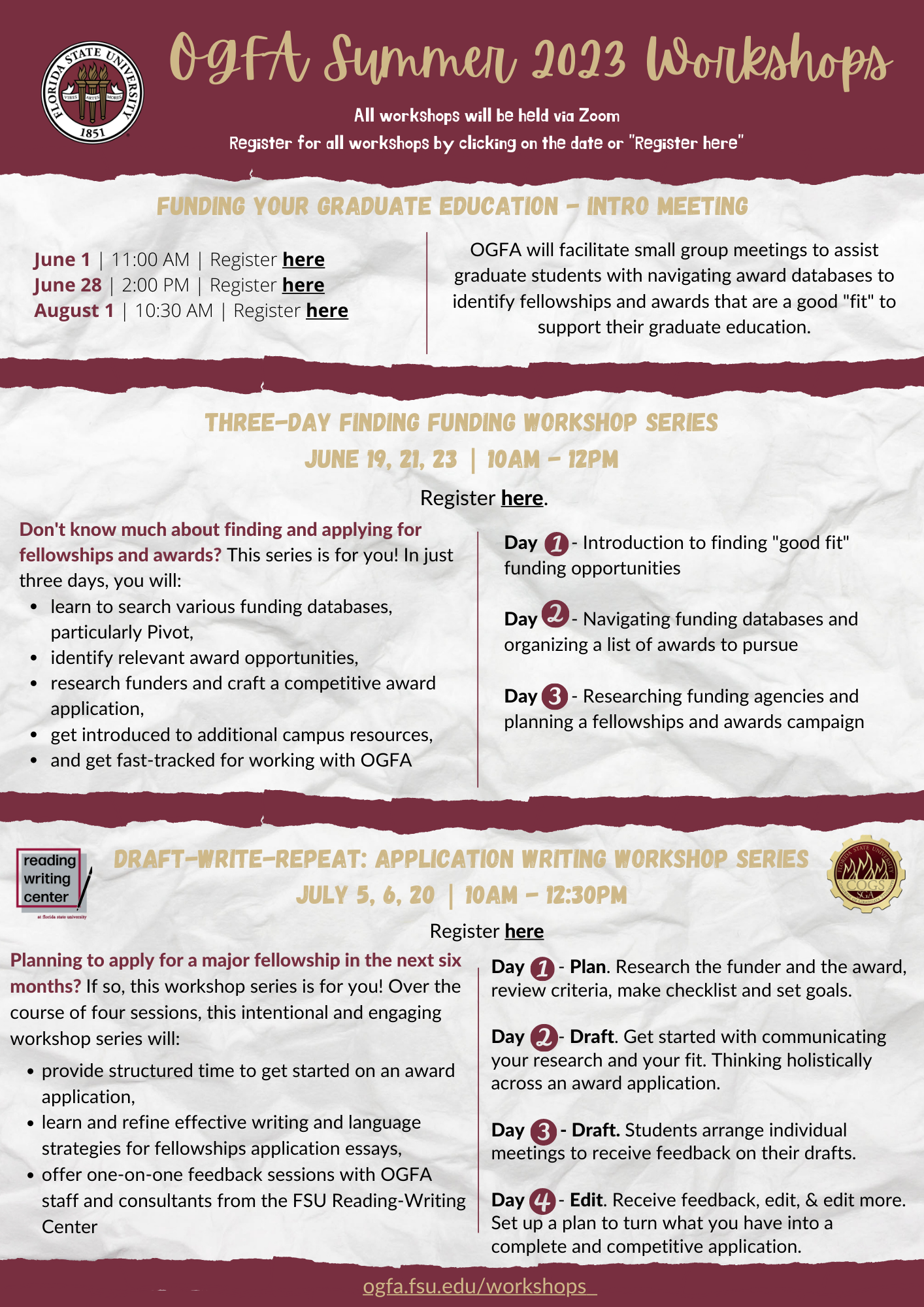 Funding Your Graduate Education: Database Search
OGFA staff will facilitate small group meetings to assist graduate students with navigating award databases to identify fellowships and awards that are a good "fit" to support their graduate education.
June 1 | 11:00 AM | Register here
June 28 | 2:00 PM | Register here
August 1 | 10:30 AM | Register here
Three-Day Finding Funding Workshop Series
June 19, 21, and 23 | 10:00 AM - 12:00 PM | Register here
Don't know much about the process of identifying and applying for external funding? This workshop series is for you! 
Day 1: Introduction to the process of finding funding opportunities that are a "good fit"
Day 2: Navigating funding databases and organizing a list of awards
Day 3: Researching funding organizations and planning a funding campaign
Draft-Write-Repeat Writing Workshop Series
July 5, 6, and 20 | 10:00 AM - 12:30 PM | Register here
Are you planning to apply for a major competitive fellowship in the next six months? If so, this series is for you! Join OGFA and the Reading-Writing Center for this exciting 4 days of learning and refining effective writing and language strategies for fellowship and award application essays. 
Day 1: Plan. Research the funder and the award, review criteria, make checklist and set goals.
Day 2: Draft. Getting started with communicating your research and your fit. Thinking holistically across an application.
Day 3: Students arrange individual meetings to receive feedback on their drafts.
Day 4: Edit. Receive feedback, edit, & edit more. Set up a plan to turn what you have into a complete and competitive application.