Cocoa Williams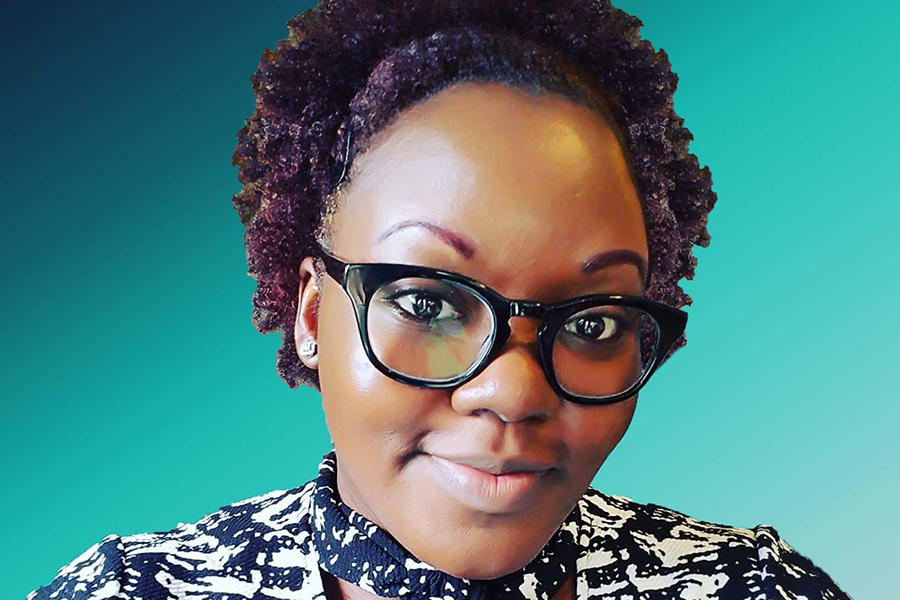 "Knowledge is a tool. Build bridges."
Video Credit: Natalia Lopez
Why FSU?
I came to Florida State University to pursue a PhD in English with a concentration in African American Literary and Cultural Studies based on the strength of the amazing faculty in the English department who are both dynamic scholars in their respective fields and also dedicated mentors to graduate students. It was also very important for me to enter a program that values interdisciplinary scholarship and provides students with opportunities for professional development both in and outside of academia. The program is also bolstered by its dedicated administrative staff who work tirelessly behind the scenes to ensure that graduate students are supported and well-informed about opportunities within the department and across the campus. The greatest strength of the department is the graduate program and the ambitious cohort of talented graduate students who enter the program each year. I've been mentored by many of them who entered the program before me.
Motivation to pursue a graduate degree
I was fueled by a desire to immerse myself in an environment where interdisciplinary inquiry and creativity are at the cornerstone of intellectual thought. I also received lots of encouragement from former professors and mentors. The faculty in the Department of English have helped shape my dissertation topic and research, which focuses on the intersections between art, literature, and museum culture within the African American literary tradition. Ultimately, I wanted to pursue the PhD because of the amazing students I've taught since finishing my master's degree. Sharpening my knowledge and honing my craft as a scholar and educator allows me to be of greater service to them.
Importance of your research and work
My research seeks to connect discussions surrounding the campaign to establish a national museum for the preservation of African American arts and culture to the broader struggle of Black artists within early twentieth century museum culture and beyond. I want to understand and celebrate the historical moment that the opening of the National Museum of African American History and Culture represents by connecting its history to other histories related to inclusiveness in museum spaces and productions of imaginative, visionary spaces when that need is not fulfilled by the larger cultural apparatus. This work also emphasizes the importance of Black writers' engagement with museum spaces and their sensitivity to the plight of the African American visual artists in their poetry and prose.
Advice for anyone considering graduate school
Prospective students should consider how the academic space they are entering can be used as a tool and platform to diversify their own research, ambitions, and goals both within academia and beyond. Contact graduate students currently matriculating through the program who can answer questions about the culture of the department and about the kinds of unique and dynamic support they get within the department and throughout the campus and local community. Lastly, I would encourage prospective graduate students to negotiate the terms of their acceptance into the graduate program of their choice. Remember, you are an invaluable asset to your future department.
Accomplishments during graduate career
I am humbled and honored to be the recipient of several graduate support fellowships and awards, including the PEO Scholar Award, McKnight Dissertation Fellowship, Leslie N. Wilson-Delores Auzenne Assistantship, Martin Luther King Jr. Book Scholarship, Ruth Yost Memorial Scholarship, Bryan Hall Teaching Award, Ermine M. Owenby Travel Award, FSU's Office of Digital Research and Scholarship's Grant for HILT, Harmon-Bickley Travel & Research Grants for Literature, and several departmental and Congress of Graduate Students funded travel grants. These awards allow me to engage in sustained archival research across the country at various libraries and research institutions whose collections of African American art and literature are unparalleled.
Career aspirations
My goal is to return to academia as a tenure-track professor, particularly focusing on minority communities across campus, especially women of color. I also wish to curate exhibits on the intersections of African American literature, art, and folk culture, in hopes of creating bridges between institutions of higher learning and the communities they serve. My greatest hope is that my contribution to scholarly letters will fuel in others the same intellectual curiosity that first drew me to the field.