Vincenzo Olivett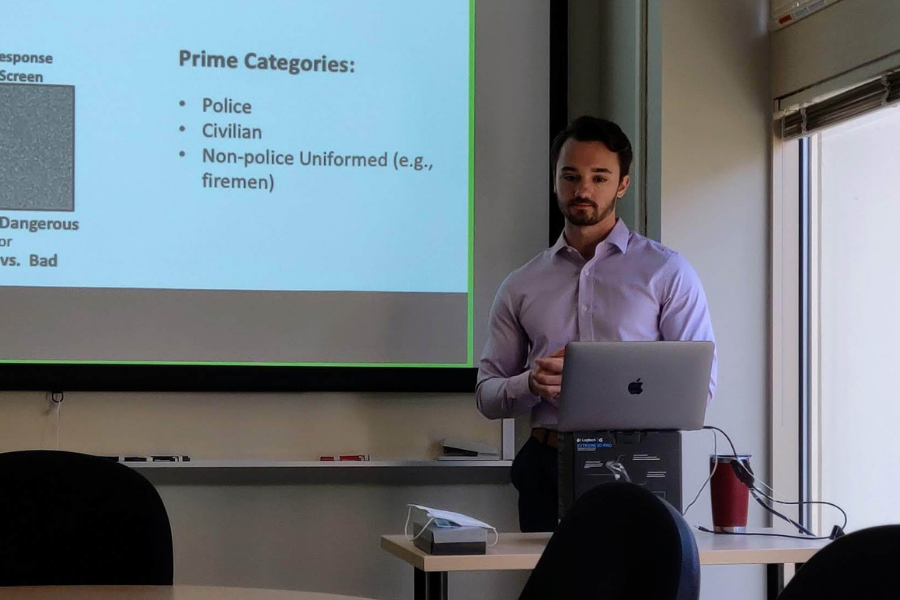 "Resources to study what fascinates you"
College: Arts and Sciences
Degree Program: Social Psychology
Degree: Master's/Doctorate
Why FSU?
My decision to attend FSU was informed by a handful of factors. Most importantly, the fit with my advisor here is ideal. Moreover, while visiting before making my decision, I sensed that the faculty and graduate students the Social Psychology Program were particularly collaborative and collegial, which also heavily weighed on my decision.
Motivation to pursue a graduate degree
I had a handful of diverse research experiences as an undergraduate. I spent one summer counting salamanders in the Poconos Mountains and another sifting through functional neuroimaging data in a cognitive neuroscience lab. However, I really fell in love with research entering my senior year when I undertook an honors thesis project focusing on primarily social psychological phenomena. While working on my honors thesis, I became certain that I wanted to spend my career focusing on similar research topics and thus decided to pursue a graduate degree in social psychology.
Importance of research and work
Generally, my research examines how affective (i.e., emotional) states influence attitudes and behaviors among individuals when they interact with other people. This work is particularly important when considering the possible harmful consequences of emotion during social interactions and the potential that my research has for redressing such consequences. For example, much work in my lab focuses on how perceptions of threat and other negative emotions underlie racial prejudices. Studying these processes is critical for tailoring interventions aimed at reducing these kinds of biases.
Advice for anyone considering graduate school
My advice for those considering graduate school is to be patient and honest with yourself. You should feel very sure about your decision to pursue graduate studies in a particular field. It is a huge undertaking, and I believe that you need to be deeply and intrinsically interested in what you are studying for it to be worthwhile.
Accomplishments during graduate career
I am proud to have received a couple of grants and awards:
"Resources to study what fascinates you. Inside the Grant Panel" – Runner-up, SPSP 2022;
Graduate Travel Award, SPSP 2022;
National Science Foundation Graduate Research Fellowship Program (NSF GRFP) – Honorable Mention, 2021;
Graduate Student Best Poster Award, SPSP 2021;
Increasing Scientific Knowledge Related to Diversity Award, FSU Psychology Dept. 2021;
Best Social Area Data Blitz, FSU Psychology Dept. Graduate Research Day 2021;
Jack Brigham Graduate Student Research Award, FSU Psychology, Social Area 2021
Career aspirations
Ultimately, I want to continue researching and teaching about social psychology. Ideally, this would entail a research-oriented career in academia.