Vince Omni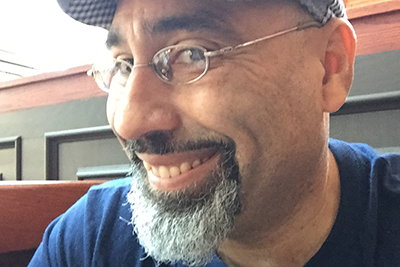 Why FSU?
I applied to the English program at FSU because it is one of the few schools in the country that offer a PhD in English with a creative dissertation. This program allows me to specialize in African American literary and cultural studies, which is an added bonus.
Motivation to pursue a graduate degree
I write stories that underscore the humanity of people in the Black Atlantic, especially those in the United States. So, when I returned to the academy in 2017, more than twenty years after earning a BA in English from Saint Olaf College (Northfield, Minnesota), I did so with the intent of refining my craft and advancing my knowledge of African American literature and culture.
Importance and impact of research
My stories explore the complexities and humanity of Black identities in the United States. Like all good fiction writers, I examine relationships: a woman who converts her dead father's neighborhood barbershop into a high-end café, or a straight father who sabotages his dream to raise money for his queer son's legal defense. My most recent project is Sarge, a story in which a former Black Panther must put family before principles in 1970s Louisiana.
Accomplishments during graduate career
The opening pages of Sarge earned me first-place honors during the College Language Association's 2019 Fiction Contest. I am also grateful to have recently been awarded a McKnight Doctoral Fellowship.
Career aspirations
Write books and teach.