Stacy Ashlyn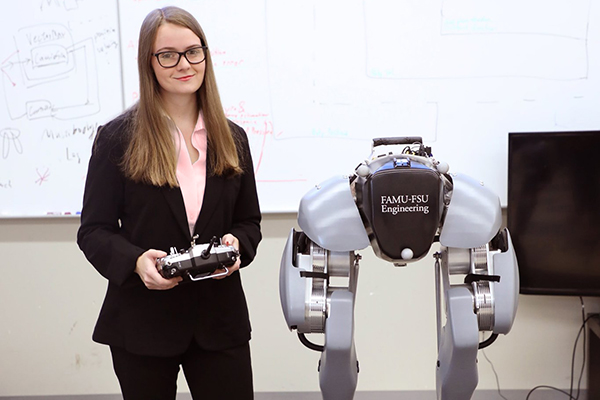 "Gain skills to accomplish your dreams."
Why FSU?
I chose FSU because I saw some of the incredible research. In my lab, you can find robots climbing up walls, flying in the air, swimming in pools, and even dressing up as Santa. Going into work in the Mechanical Engineering department feels like going to an amusement park because there's so much excitement stemming from the developments being made in robotics.
Motivation to pursue a graduate degree
My advisor from West Chester University, Dr. Chuan Li, is a large part of the reason that I pursued a PhD. He was a phenomenal advisor who made research fun and exciting by supporting me in countless ways. Since becoming a research supervisor at FSU for undergraduates, I have modeled my approach to supporting students off of my experience with Dr. Li. He taught me to encourage my students not just to learn how to do the research but also how to convey the research to others.
Importance and impact of research
I am director of the Penguineering Team. This research group consists of a wide range of talented undergraduate and graduate students. Our work centers on developing scientific advancements in biomechanics and robotics while also encouraging inclusivity and conservation through outreach. There's a lot of reasons to care about our work, but one of the most prominent reasons is penguins. We work on understanding the formal-wearing seabirds on many levels, including their habitats, behavior, locomotion, and ways to protect them. This work involves actual visits to Moody Gardens aquarium, where we conduct experiments with various penguin species.
Advice for prospective graduate students
Go for it! You will learn so much! It is hard, but it's worth it. Also, apply for fellowships. I won the NSF GRFP award, and it allows me to do the research I want to do.
Accomplishments during graduate career
I won a National Science Foundation fellowship to support my work, which is an honor. In addition, my research team held an event, "Walking in Robotic Wonderland," to spread holiday cheer during COVID by giving FAMU-FSU's bipedal robot Cassie a chance at being Santa. Since the pandemic has hit everyone really hard, I was very proud I was able to support my community by giving them a safe way to celebrate the holidays. Our event got featured in the local newspaper, which was another exciting accomplishment. Elle Schutte, the Penguineering Team's outreach coordinator, led the winter event and has recently received a grant for sustainability and conservation to fund our upcoming event, Penguin Palooza, scheduled to be held this summer.
Career aspirations
I want to work in an industry advancing robotics to help people with disabilities. Certain medical conditions can turn your body into what feels like a prison. I hope I can develop devices that free people from the limitations of their disabilities.