Roc Rochon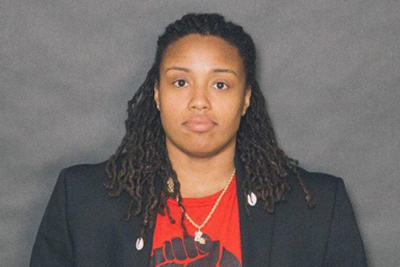 Why FSU?
My advisor, Dr. Joshua Newman, and his scholarly and community-based work as the Director of the Center for Sport, Health, and Equitable Development is the reason I picked Florida State. Particularly, Dr. Newman's critical investigation of sport management through cultural studies and the political economy of the U.S. South, which aligns with my interest in political economies of sport and the active body as a site of refusal to coloniality and commercialized sport/sporting.
Motivation to pursue a graduate degree
My motivation is connected to my experiences as a community organizer and former studentathlete. I believe that sport is a contemporary cultural institution that is consumed at large and is constructed through media representations of gender, race, ability, nationality, and other markers. Sport both stratifies identity while simultaneously rendering identity sameness, a "level playing field," or the belief that sport transcends social inequality. I seek to expand a critical sport sociology that amplifies the ways that sport—and representations of "the body" in sport—both maintains and perpetuates power, privilege, and oppression, such as removal and dispossession of Indigenous peoples, the disregard to gender variation in sport, and structural racism.
Importance and impact of research
My research ethic and politics align with unsettling sport and decoloniality. I suggest reflecting on what your purpose is in your writing. My research focuses on the experiences of queer and trans* people in the Black Diaspora who live in the U.S. South, particularly as pertains to Indigenous and African knowledge of land and how this knowledge can be practiced through a healing modality through somatic movement. I value reflexivity in my research. As someone who will participate in interpretative inquiry, I feel a deep responsibility to represent the narrative that is gifted to me (and the community) by participants.
Advice for prospective graduate students
Study diligently and pace yourself. Rest is important. Inquire, ask questions, and reach out to people who have connecting interests beyond your department. Building relationships makes this process more survivable, meaningful, and expansive. The summer of my first year, I took a course in economics to better my understanding of markets and political economies. Every time I enter a classroom outside of the Department of Sport Management, students and faculty are fascinated. For me, this experience is another reminder of how sport is consumed (generally) without a critique, which is more reason for me to try and make visible the subjugated entanglements that sport (re)produces. So, branch out and make the connections, all the connections! As novelist E. M. Forster stated, "Live in fragments no longer."
Accomplishments during graduate career
Referred Presentations at the North American Society for the Sociology of Sport (NASSS):
2019, "The Bio Politics of Consumable Black Culture and Gender Variance in Hip Hop & Sport." Paper accepted for the Annual Conference of the North American Society for the Sociology of Sport, Virginia Beach, Virginia.
2018, "Rooted Resistance: Reimagining Space & Liberating Queer Folx Through Fitness & Wellness." Paper accepted for the Annual Conference of the North American Society for the Sociology of Sport, Vancouver, British Columbia, Canada.
I have applied for and been awarded $8,000 in grant money toward Rooted Resistance a grassroots, community-based program that is committed to creating space for trans*, queer, gender nonconforming and nonbinary, and 2Spirit people of the global majority.
Career aspirations
I will seek opportunities in and outside of academia that value community-based work through critical pedagogical practice. Within academia, I will expand my search in sport management (sport studies), ethnic studies, geography, and women and gender studies departments.