Randi Bowman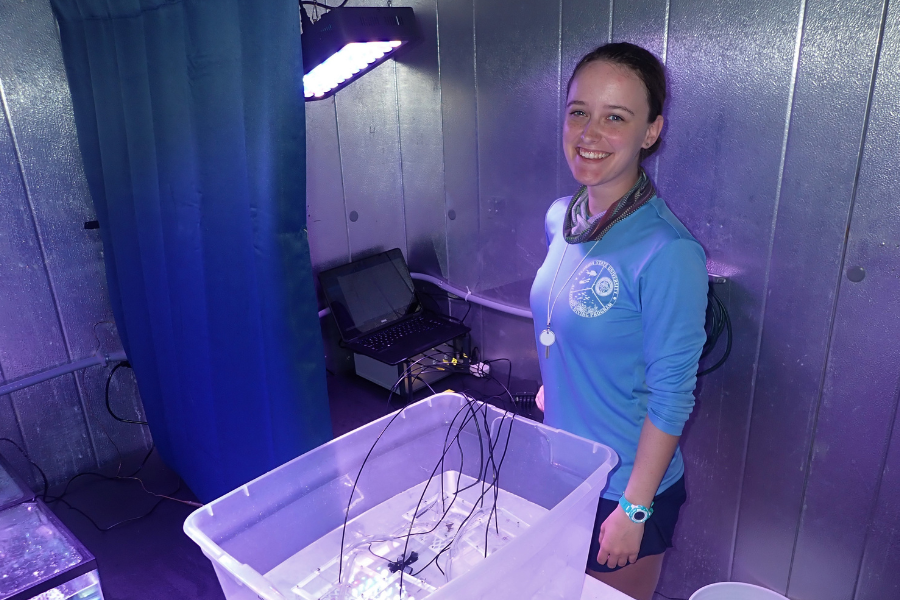 "Expanding knowledge and chasing curiosity"
Why FSU?
I chose to pursue a graduate degree at FSU in order to work with my current advisor, Dr. Sandra Brooke, and conduct research out of the FSU Coastal and Marine Laboratory (FSUCML). While FSU had already been on my radar for graduate school for a couple years after undergrad, it wasn't until I visited and worked at FSUCML as a technician in Dr. Brooke's lab that I was convinced it was somewhere I wanted to be. The relative ease in which research could be conducted both in the field and the lab there was a huge draw, as was the support given to grad students by its researchers and staff. This support has been essential to my progress and development as a grad student.
Motivation to pursue a graduate degree
I have always been motivated by a desire to understand the natural world. Since the summer I graduated high school, I have conducted research in a range of fields, including plant ecology, herpetology, freshwater/fisheries ecology, and marine ecology. Most of this work was in the form of short-term field research positions, which allowed me to gain experience working with different organisms, systems, and research methodologies. I love field work more than anything, but my most fulfilling experience in research was conducting my own independent research project as an undergraduate. Building a project from scratch and seeing each step of the research process firsthand was incredibly exciting, as it provided me with the knowledge needed to convert my curiosity into action that could answer questions about the natural world. Ultimately, it was this desire to be involved in the complete research process that motivated me to pursue higher education.
Importance and/or impact of research and work
Investigating the interactions between an organism's thermal environment and its ability to adjust its physiology is crucial for understanding how organisms will cope with a changing climate. As the Earth's climate changes, the thermal environment of many organisms will also change. Some organisms may be able to adjust their physiology to cope with these changes, while others may not. In my study system, coral ecosystems, stony corals are bearing the brunt of negative climate change effects, experiencing rapid declines across the globe. Intriguingly, octocorals, a type of soft coral, seem to be more tolerant of a changing climate, remaining stable or even increasing in abundance with the decline of stony corals. Understanding how different organisms respond to changes in their thermal environment will help us predict how they will be affected by a changing climate and identify those that are capable of survival or at risk of extinction. This information can be used to develop conservation strategies and management plans that will help protect vulnerable species and ecosystems. Additionally, by studying a less-vulnerable coral, my research will provide insight into what coral reefs might look like in a future world where climate change continues unchecked. Are these shifts we're seeing in community structure from stony corals to octocorals just a step in the degradation of coral reefs to rubble and slime, or a new normal that will define coral reef function into the future?
Career aspirations
I aim to pursue a career as a research scientist for either the government or a non-profit organization, where I can focus on my passion for research while also participating in outreach. Ideally, I would build upon my interests in ecophysiology to build a research program that uses organism physiology to investigate climate change impacts in marine systems and provide suggestions to inform management approaches and policy.
Advice for anyone considering graduate school
There are a million different ways to reach your goals! Grad school isn't always required for certain career paths, so make sure it is useful before you pursue it. If you do decide that grad school is for you, consider taking gap years between undergrad and grad school to gain experience in your field and narrow your research interests. I took three gap years before grad school to explore different fields in ecology, from fisheries conservation to terrestrial ecology, and these experiences were essential for preparing me for grad school and helping me develop as a scientist.
Accomplishments during graduate career
I have been honored to be the recipient of multiple grants and awards during graduate school: NSF Graduate Research Fellowship (2021-24); FSUCML Board of Trustees Graduate Student Research Fund (2020, 2022); Southern Association of Marine Laboratories John Vernberg Student Award (2022); Horace Loftin Endowment (2022); Matt Beard Award (2022).
In addition to the grants and awards I have received in support of my research, I am also proud of the skills I have gained and built over my graduate career. First, I went from a relatively novice scuba diver before grad school to an AAUS Scientific Diver (2019) and Divemaster (2021). These certifications and dives I have been a part of in support of research for myself and other graduate students have been incredibly enriching, as they have allowed me to access my favorite place on Earth, the bottom of the ocean. Besides diving, I have also had ample opportunity to use and develop my technical skills in problem-solving and building research equipment. From building PVC light stands, tank systems, and programmable temperature profile controllers to designing and 3D-printing parts to streamline data collection, I have become confident in my ability to build whatever I set my mind to and solve problems in innovative ways. Curiosity, willingness to learn, and determination to see things through can go a long way toward making up for lack of knowledge or experience in a particular area, and I am above all proud of my ability to leverage these traits to become a better and more skilled scientist.