Madison McCraney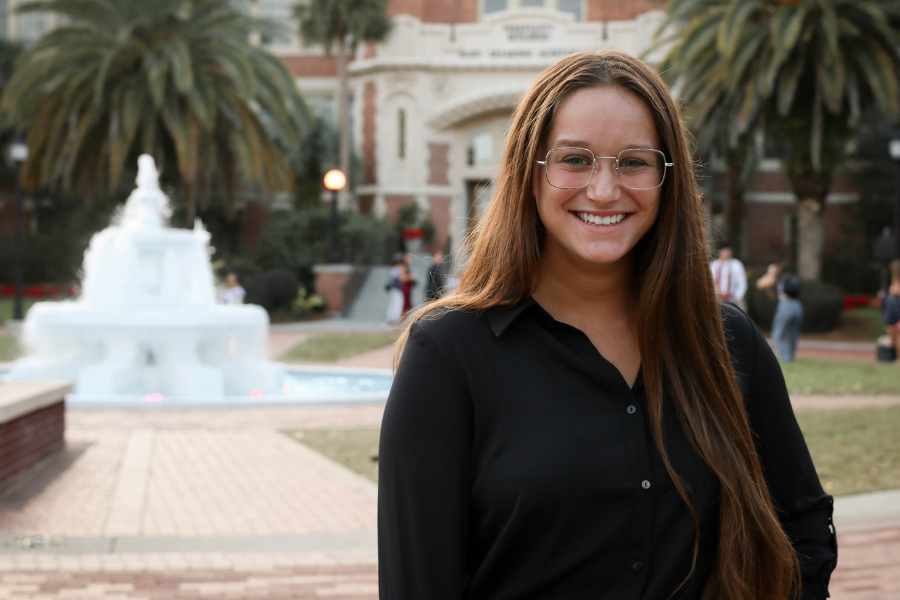 "Opportunity to further connections and perspective"
College: Social Sciences and Public Policy
Degree Program: Public Health
Degree: Master's
Why FSU?
I wanted to pick a program that would align with my future aspirations of pursuing health policy. Additionally, Tallahassee has been home to me for the past six years, and I have a deep love for Florida State University. With this city being the capital of our state, there are many health policy opportunities available. The Master of Public Health Program (MPH) also hosts incredible faculty, staff, and students on our campus.
Motivation to pursue a graduate degree
I wanted to learn more about the intricacies of health care infrastructure prior to becoming a physician. The concentration on health policy within FSU's MPH program allowed me to gain this perspective. Through furthering my background in public health, I will be a better advocate for meaningful reform.
Importance and/or impact of research and work
I have focused my work during my graduate degree on different social determinants of health, such as the neighborhood and built environment as well as health care quality and access. Through exploring health accessibility, we can see areas where more robust services are needed. Additionally, observing a city's active modes of transportation can give context to differences in health outcomes. These research topics allow for the creation of infrastructures that give people more agency over their health and well-being.
Career aspirations
I hope to become a primary care physician. I would like to provide services in areas of need while also working as an advocate and professional within health policy.
Advice for anyone considering graduate school
Do not be afraid to make changes. There is always going to be a first person to do something. Do not allow your comfort or current norms get in the way of your vision.
Accomplishments during graduate career
I am the founder and one of the co-directors of the first Public Health Professions Conference! This conference will be held on April 22nd in FSU's ballrooms. The theme of this year is "A Multidisciplinary Field," demonstrating how many different methods there are for integrating public health into your future or current career. Beyond the speaker component, there will also be a tabling portion and a networking reception at the event. I have also had the pleasure of working as an Intern for the CMO of Florida Medicaid, Dr. Christopher Cogle! I am leading a senior home modification program and physician workforce study within the Agency of Health Care Administration. Through this experience, I was able to be a Visiting Scholar with the American Board of Family Medicine's Center for Professionalism and Value. As a visiting scholar, I traveled to D.C. for the month of October to explore funding mechanisms of graduate medical education. Other areas of involvement during my graduate career include placing first in the 2023 Master's in Four Competition, working with Dr. Christopher Coutts on a directed independent study, being a teaching assistant for my program, and serving as the community outreach coordinator for the Master of Public Health Student Association.