Josiane Banini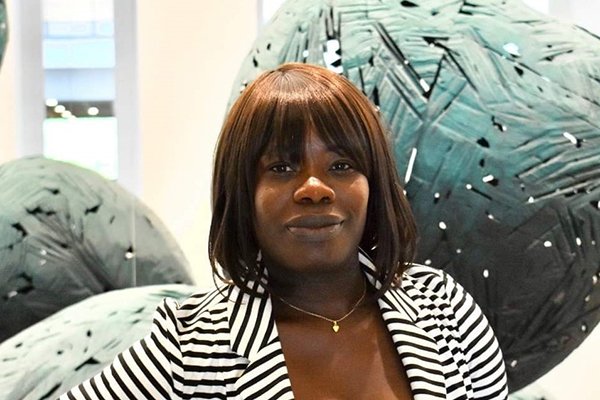 "Acquire and Share Knowledge"
College: Arts and Sciences
Degree Program: French
Degree: Doctorate
Why FSU?
I chose to attend Florida State University because my interest in pursuing research in postcolonial sub-Saharan Francophone literature and women's studies was encouraged by the faculty members during my interview and during my process of choosing this institution. To that end, the French program at Florida State University was offering me an opportunity to expand my knowledge on the Francophone literature from Sub-Saharan Africa, to which I was initially introduced during my graduate career. In addition, I had great exchanges about education at FSU and life in Tallahassee with one of the returning French graduate students who started his PhD a year before I started mine. Finally, I liked the city of Tallahassee because of its weather and nature. It reminds me of home.
Motivation to pursue a graduate degree
My motivations to pursue a PhD come from an independent study on Francophone African literature I did about eight years ago with my former mentor and from a meeting with one of my favorite authors, Léonora Miano, at a conference in Charleston, South Carolina. On a personal note, a doctorate degree and PhD title sound amazing.
Importance and impact of research
There is a lot to explore when it comes to African literature and cultures in Western institutions. Teaching or researching is not only my way to contribute and promote them, but also to serve the purpose of bringing people and cultures together. My research and my work aim to show how bridging the gap between cultures, languages, and social mores leads people to a new space that goes beyond the sociocultural differences to deconstruct the question of otherness and to embrace diversity and hybridity.
Advice for prospective graduate students
Graduate school is about commitment, self-motivation, and balance. It also opens up knowledge and a wider array of career opportunities. Missing a graduate experience is like missing a lifetime adventure. So, go learn, explore, and become!
Accomplishments during graduate career
I published three research projects between 2020 and 2021 and I am. recipient of Ada Belle Winthrop-King Enhancement.
Career aspirations
My aspirations are to continue to teach and do research on African and Francophone literature and cultures, bring my experience and knowledge to the classroom, design instructional methods in second language teaching that enable me to contribute to Francophone studies, become a scholar in French and Francophone studies, and write or translate books.