Johnnie Allen Jr.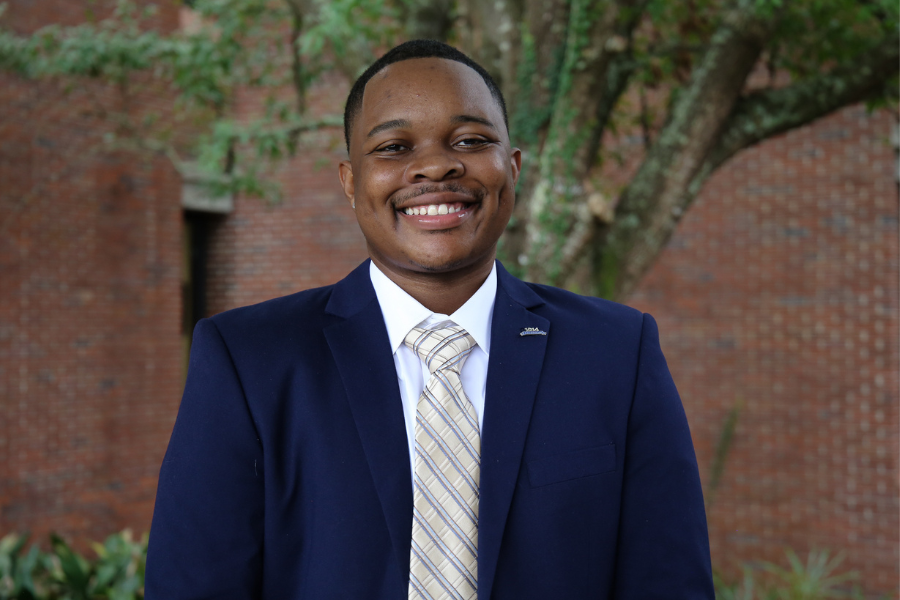 Builds bridges to help others cross
Why FSU?
I came to FSU because of the supportive and collaborative faculty in the Higher Education Program within the Department of Educational Leadership and Policy Studies. Before applying to the Higher Education Program, I worked with Dr. Cameron Beatty on a book project as a graduate research and book assistant going into the second year of my master's program. After my connection with Dr. Beatty, I knew through his mentorship and guidance that FSU would contribute to my growth academically, professionally, and personally. Thankfully, I received the McKnight Doctoral Fellowship; I am honored for the financial support to fund my PhD. Still, I am even more humbled and grateful for the resources and network of McKnight current/past fellows, staff, and faculty.
Motivation to pursue a graduate degree
Becoming a doctor is something that I've always wanted to do. However, I didn't know I would pursue my doctorate in Higher Education. Growing up, whenever I mentioned being a doctor, everyone thought of medicine, even me. Although I am not going for the medical doctor route, I am happy to say I will be the first person in my family to receive a PhD. As a first-generation graduate of undergraduate and graduate school, my motivation has come from my village, including family, friends, fraternity brothers, mentors, mentees, former professors, former K-12 educators, and so forth.
Importance and/or impact of research and work
My research focuses on the leadership experiences and development of students of color in higher education, with an emphasis on Black college men and their participation in leadership learning, education, and mentorship programs to increase social equity. Additionally, I hope to identify the correlation between leadership engagement and college graduation and retention rates at predominantly white four-year institutions, HBCUs, and community colleges for students of color. As a Black man, I find it essential to highlight the leadership experiences of Black men not from a deficit approach but from an asset-based framework to promote culturally relevant campus communities.
Career aspirations
I aspire to be a tenured faculty member teaching higher education or educational leadership courses with a strong desire to serve as a senior-level administrator in higher education. I want to continue doing leadership research and mentoring students of color because of my experience navigating higher education. I am aware of the increased challenges students of color encounter. As long as my career includes supporting others, I will be happy!
Advice for anyone considering graduate school
Begin researching programs early on and find ways to connect with faculty with similar research interests to discover a potential mentor. Connecting can be done via email, phone calls, or a Zoom meeting to discuss important and relevant questions. Additionally, speak with current students in the program to learn about their experiences in the classroom, research teams, advising sessions, and extracurricular activities on campus or in the surrounding area.
Accomplishments during graduate career
As a graduate student at Indiana University, I have been awarded numerous graduate awards, including the Dr. Robert H. Shaffer Memorial Fund Scholarship (2021), the inaugural Neal-Marshall Black Culture Center Legacy Award (2021), Residential Life Graduate Supervisor of the Year (2022), Graduate Award from the Groups Scholars Program (2022), and inducted into Neal-Marshall Inaugural Hall of Fame (2022). Two of my colleagues and I established the Inaugural First Generation College Student Celebration Committee that developed programs and virtual engagement opportunities for Indiana University's School of Education and the IU HESA program through participating in the NASPA First Generation College Celebration. In terms of scholarship, I've written a book chapter on Black college men in fraternities and their leadership learning experiences; the book is soon to be released with the title Engaging Black Men In College Through Leadership Learning, edited by Dr. Cameron Beatty and Dr. Jesse Ford. Lastly, I am a 2022 recipient of the McKnight Doctoral Fellowship.