Honorine Rouiller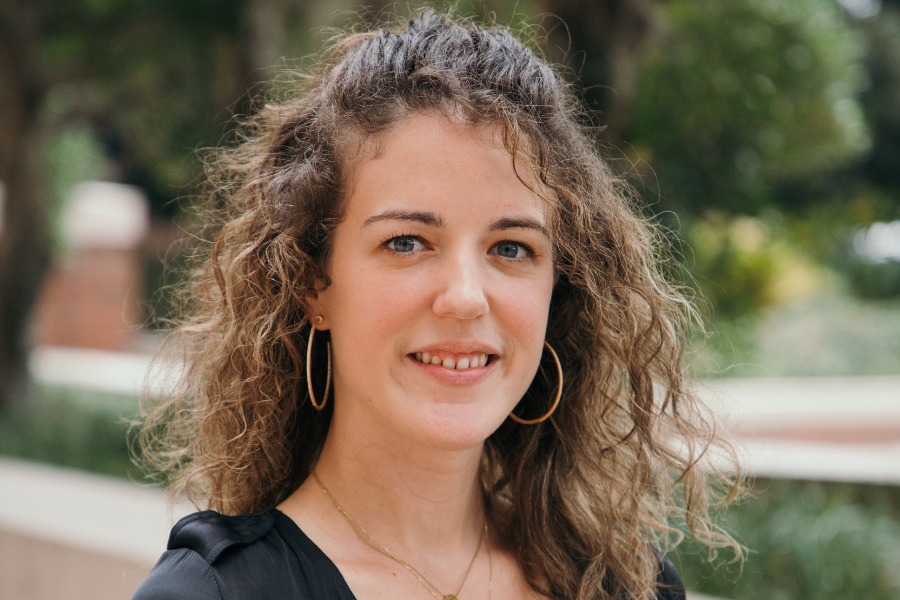 "Do something you are passionate about!"
College: Arts and Sciences
Degree Program: French
Degree: Doctorate
Why FSU?
I chose to attend FSU because of all the opportunities that I could find outside of my program. There are lots of resources (the career center, the writing center, the CIES, the Globe, just to cite a few), and that's what I wanted for my graduate studies. Moreover, I also chose FSU for the Winthrop-King Institute for Contemporary French and Francophone Studies because it enables me to attend great lectures and conferences while also applying for funding for my research and for conferences.
Motivation to pursue a graduate degree
Originally I wanted to pursue a graduate degree because I wanted to teach French at the collegiate level and do research. Today, I realize that I might not teach in a university (the job market is tough, let's face it) but my PhD will open many doors. I don't have any regrets in pursuing this graduate degree. I am also the first one in my family (and probably from my small town in France) to pursue graduate studies, and that makes my family proud. It is a good source of motivation.
Importance and/or impact of research and work
The Algerian War ended in 1962, and yet, until 1999, the French government claimed that there had been no war, using euphemisms like "peacekeeping operations" in official discourse. To maintain this myth, the French State censored personal accounts of various groups in France directly and indirectly impacted by the war (1954-1962), especially those from three primary groups: the French soldiers; the pieds-noirs (European settlers that Algerian nationalists forced into exile in France); and the Maghrebi migrant workers and subsequent immigrants from Algeria, Tunisia, and Morocco. When France lost Algeria—its only settler colony—after 132 years of imperial colonization, it lost part of its nation, which lead to the surge of political nationalism that is still present today. My dissertation investigates discrepancies between the French official accounts of the Algerian War (1954-1962) and the lived experiences of French soldiers, pieds-noirs, and Maghrebi immigrants. It also sheds light on the unethical implications of foreign and domestic policy in France that led to the social fracture in the country since the 1980s. Using graphic narratives published in the last ten years, I demonstrate the unique capacity of this medium to intervene in historical debate regarding French national identity and immigration.
Career aspirations
Nowadays, proficiency in another language is an essential skill that gives you the opportunity to engage with the world in a more immediate and meaningful way. Upon obtaining a doctorate degree, I aspire to become a French professor at a liberal arts college because of the focus on creative thinkers, service, education, and acceptance of others. Moreover, being at a smaller institution will allow me to create close relationships with my students and be of better assistance. I wish to become the professor whose door is always open. I also desire to continue helping international students in their adjustment to a new scholarly system. If not a professor, I would love to work in the field of international education. Working for an international center that deals with study abroad programs, international students, and global fluency programs would make me really happy because I would be able to put into action all the experience that I have acquired.
Advice for anyone considering graduate school
Make sure you do it for the right reasons, so that when it gets really hard (and it will), you will find the strength to keep going. Also, find yourself a good advisor who will mentor you and wants to see you succeed. Writing your dissertation is tough, but it is also overwhelming because it is a new genre. I am extremely grateful for my advisor Dr. Michelle Bumatay because not only does she support me in all my projects (writing my dissertation, publishing an article, applying to fellowships and awards, going on the job market a year early), but she also cares about my success. She wants me to write the best dissertation I can, and she provides me the feedback I need to do so. I would not be where I am without her. I think I would have given up a while ago without her support and advice.
Accomplishments during academic career
I am involved in many different organizations, and it really fulfills me because it enables me to connect with many different people on campus. I am the project manager of GradImpact. My favorite part is to interview graduate students from all over campus because I learn so much about their programs and their research. I received the Delta Kappa Omega Foundation Graduate Student Scholarship which recognizes exemplary leadership skills and outstanding community service. In Spring 2022, I won the Tony DiBenedetto Graduate Student Employee of the Year Award. Because accomplishments should not always be school related, I ran my first half marathon in February 2022 in 1h50. I can't wait to run the next one!