Hannah Smith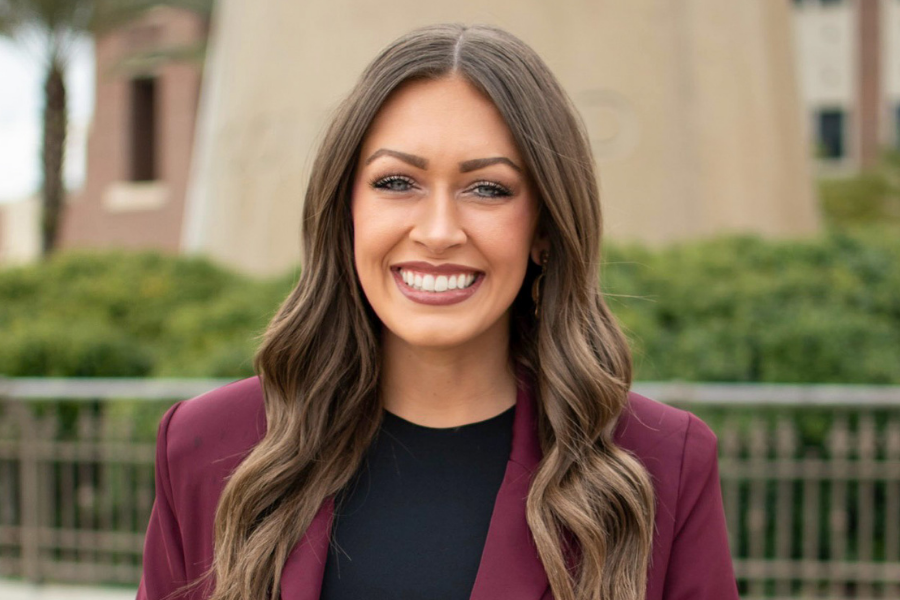 "To advance knowledge, innovation, and creativity"
College: Fine Arts
Degree Program: Interior Design
Degree: Master's
Why FSU?
The Interior Design Program ranks in the top 10 across the country. I scheduled a VIP golf-cart tour with Cristina Izquierdo, the recruitment manager for the College of Fine Arts, to show my parents and me around campus. I immediately fell in love with the beautiful campus, tight-knit community, and how it felt like my 'home away from home.' In the past almost two years of attending FSU, I tell myself everyday that I made the best decision ever.
Motivation to pursue a graduate degree
I have always known I wanted to pursue a graduate degree to advance my knowledge in interior architecture and design, but I was not exactly sure what I wanted to do research on. During quarantine, I became inspired by the universe and what could be. I began researching the design of spacecrafts, space habitats, and what life would be like on Mars. In that moment, I knew it was meant for me to go to grad school. It has been such an incredible experience thus far. I have been able to meet and interact with several people from NASA, receive great advice on my project, and even interview former astronaut Norm Thagard. I would not trade it for the world.
Importance of research and work
The importance of my research is to investigate the effects of isolated and confined spacecraft environments on astronauts' psychological well-being during long-term space travel. The aim is to develop innovative strategies to mitigate senses of stress and anxiety in spacecrafts. It is critical to design a supportive, well-rounded environment that satisfies needs of autonomy, competence, and relatedness while providing for privacy, flexibility of use, novelty of environment, and personalization. Future spacecrafts must be designed in an effective and efficient manner that pushes the boundaries of what we already know, takes us back to the Moon, Mars, and beyond, and to change the future for humanity.
Advice for anyone considering graduate school
Do your research and go where your heart leads you to. Talk to the graduate coordinator and see if the program offers knowledge and insight you are looking to gain in graduate school. Out of state tuition is expensive, so apply for scholarships and grants, and see if there are any positions open in the department that provide financial assistance and/or stipends. Once you find the place you fall in love with, you will enjoy every moment of it. It will go by in the blink of an eye.
Accomplishments during graduate career
I am proud to have received a couple of grants and awards:
2020 Adelaide D. Wilson Graduate Fellowship Endowment Scholarship Recipient,
2021 The Lisa Waxman Graduate Scholarship Award (FSU - Dept. of Interior Architecture & Design),
2021 The Advisory Council Graduate Scholarship Award (FSU - Dept. of Interior Architecture & Design),
2021 NEWH Sunshine Chapter Scholarship Recipient,
2022 IDEC Foundation Graduate Scholar Award Recipient,
2022 Goodwood Memorial Design Competition (Winning Team: A Bridge to the Stars),
2022 Spring/Summer College of Fine Arts Student Travel Grant,
2022 Metropolis Future 100 Nominee,
2022 FSU Outstanding Teaching Assistant Award Nominee,
2021 - 2022 Student Employee of the Year Award Nominee,
2022 Student Affairs Leadership Award Nominee.
Career aspirations
My dream career is to work for NASA, SpaceX, or anywhere in the space industry and be a spacecraft interior designer. This is not a job title you hear of every day, and it seems to almost not exist when researched. I am a non-engineer trying to break into the engineering world. I hope that my research exhibits the importance of having an interior designer on the design team for spacecrafts to successfully design for long-term missions.