Hanim Astuti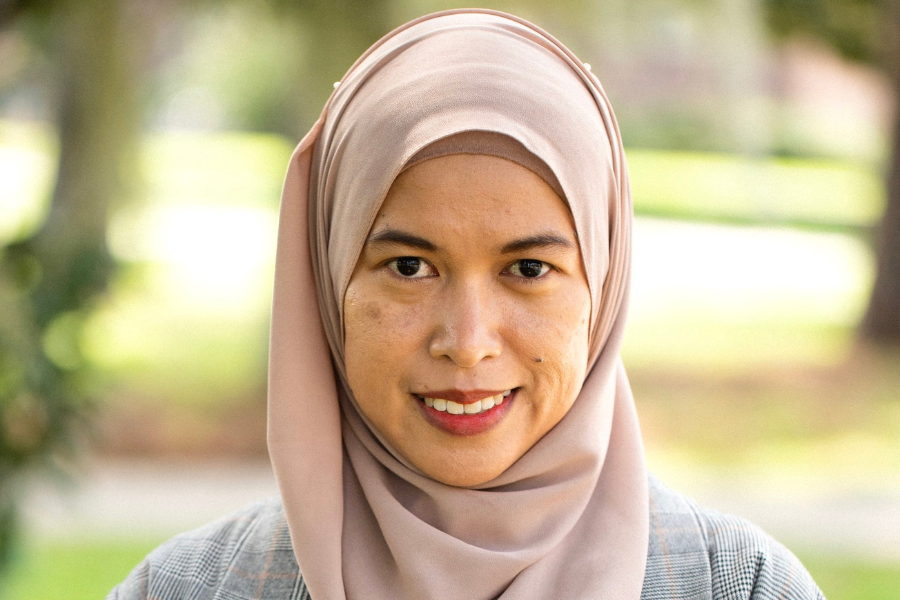 "Gain expertise, a brighter future career in education"
Why FSU?
Fulbright has opened the gate for me to pursue my doctoral study in the US and, more specifically, at FSU. When I was in the process of applying to US universities, Fulbright recommended the School of Information at FSU, one of the best information schools in the US. Exploring the iSchool's website, I found professors who focus on research fields I am interested in. Currently, they are members of my doctoral committee. Another consideration was the opportunity to work as an employee at FSU. In addition to our role as students, all PhD students in the iSchool have to do a part-time job (as a TA/RA/GA/GLI). I feel that not only does this work help me better comprehend the higher education system in the US, but it also enriches my teaching experiences, teaching skills, and confidence.
Motivation to pursue a graduate degree
My highest motivation was to gain a deeper understanding of governance and information-related policies. Before coming to the US, I was the head of IT services at my home university in Indonesia. I saw that the successful implementation of ICT innovations for higher education, government, and private sectors is not only about technical arrangements. More than that, many aspects play roles as significant determinants, such as social, economic, and demographic factors. In addition, I witnessed the power of policies, governance, and politics as powerful determinants to transform those sectors. I wanted to broaden my knowledge and skills by pursuing a PhD. Another motivation was that, as a tenured lecturer in Indonesia, I was encouraged to continue my studies, as this training is part of professional development plans in higher education systems in Indonesia.
Importance and/or impact of research and work
My exposure to various fundamental problems in digital transformation in government sectors has changed my research interest. Currently, my research focuses on information policy, digital government, digital equity, and information ethics. I believe that governance and policies are the foundation of an information society. From an ethical standpoint, technological innovations are created so that users (government sectors, private sectors, and citizens) can reap the benefits. However, many cases happen where only certain groups of people receive the benefits of digital technology. One of the important focuses of research in information policy, digital equity, and information ethics is ensuring digital technology's universal access and use. The study in this area does not only focus on developing policies that provide digital equity for all but also on executing, monitoring, and, most importantly, evaluating the policies' impact. Measuring impact is challenging due to the difficulty in obtaining evidence and choosing the proper measurement and, therefore, is usually neglected by government sectors.
Career aspirations
I want to be an expert in information policy-related areas. In addition to working with government sectors in Indonesia, I always find it exciting to work with international organizations and global researchers to promote evidence-based policy-making in developing countries. As a tenured lecturer, I also want to advance my career to be a professor who has a high contribution to my students, knowledge, and society.
Advice for anyone considering graduate school
I will be more specific with advice for anyone considering a doctoral program. I read an article saying that doing a PhD is difficult and stressful, but people still do it. Motivation is important. You must be fully aware of your motivation; it has to be something you need. It is not just "I want to do a PhD."
Next, find programs that suit your interests. Examine their website carefully, and discover something that helps you in deciding, such as the faculty and their expertise, the curriculum, the publications the research group has, and other opportunities the program offers. As doing a PhD study is challenging, doing something you love is essential.
Lastly, always have complete faith that all your hard work will get rewarded. So, no matter how easy or hard your PhD journey is, many opportunities, values, and rewards will come to you later.
Accomplishments during graduate career
Outstanding Doctoral Graduate Teaching Award 2022, the College of Communication and Information, Florida State University
A Nominee for Outstanding Teaching Assistant Award (OTAA) 2022, Program for Instructional Excellence (PIE), Florida State University