Cortnie Baity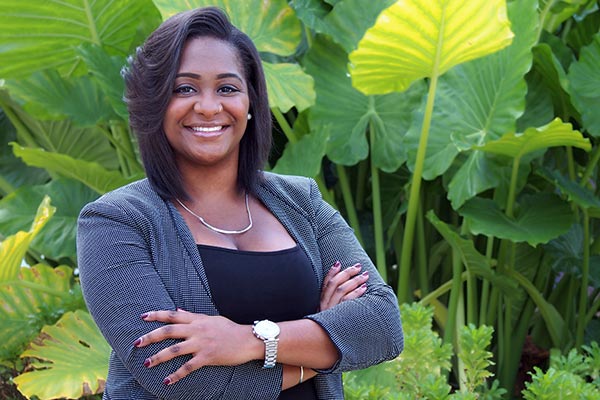 "Influence a positive narrative shift."
College: Human Sciences
Degree Program: Human Development and Family Science
Degree: Doctorate
Video Credit: Enrique Toledo
Why FSU?
I earned a BS in Psychology from Florida State University's in Psychology. Immediately following my undergraduate degree, I worked for the FSU Graduate School for 9 months. I used working on campus to my advantage by making appointments with faculty across campus in various departments to learn more about graduate degree programs that might suit my career interests. After meeting with a former department chair of Family and Child Sciences, I decided I would pursue a clinical master's degree in Marriage and Family Therapy (MFT) out of state, because only the Doctoral MFT program was offered in the department.
Motivation to pursue a graduate degree
Being an African American woman from the south, I represent multiple social and economically marginalized groups. God presented an opportunity for me to serve as a representative of scholarship and achievement among members of these groups and I could not deny those opportunities. Additionally, I serve as a role model for my family. Lastly, there are just not enough researchers and faculty of color in higher education institutions. I wanted to increase minority faculty presence because I know the impact that relatable role models can have on a developing young person's life choices and trajectory.
Importance of your research and work
My area of research is personal and family finances and how the two impact mental & physical health as well as interpersonal relationships. This is important because money is a part of our daily lives. Research shows finances have the power to predict mental and physical health outcomes, as well as relationship quality. As a human scientist, I aim to discover ways to improve the quality of human life. It is my goal to heal and improve mental & physical health outcomes, as well as family relationships via personal finance intervention.
Advice for anyone considering graduate school
If you receive a nudge from God/the universe/gut feeling about pursuing graduate school, take it into careful consideration. Everyone does not get that nudge, know that it serves a purpose, so it is worth while exploring.
Accomplishments during graduate school
So far, I am most proud of reaching doctoral candidacy status!  I appreciate variety in my skill sets and daily schedule and I aspire to become a higher education professor, licensed marriage and family therapist with a specialization in personal finance healing, and an applied social scientist.