Connie Tenorio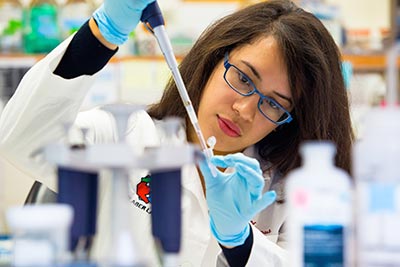 "Make America Great Again through Science."
Video Credit: Enrique Toledo
Why FSU?
When applying to graduate schools, I was looking to receive the best training I could as a scientist in my field. I attended FSU as an undergraduate student and had the great fortune to learn about the exciting research here firsthand. When I joined FSU, the College of Medicine was brand new and already making headlines as one of the preeminent medical schools in the nation for training physicians and attracting top scientific talent. The resources available here were new and cutting-edge, and the College of Medicine was and still is ranked as a top school in the nation for Hispanic graduate students. Representation is extremely important to me, especially as a future scientist, a career that historically has struggled to be inclusive of underrepresented groups.
Motivation to pursue a graduate degree
To be frank, I never thought about a career in science as a kid. I knew scientists existed, but I had never seen or met a scientist who looked like me, so I never entertained it as a viable career option. While taking classes, I discovered a passion for proteins and biochemistry, and one of my professors suggested I join a lab to further explore my interest. So, on that directive, I searched for and joined a research lab. It was this decision that started my path as a scientist. Working in a lab allowed me to see concepts that had previously come off as dry in my textbooks and lectures in a new light.
Importance of research and work
My research focuses on engineering and studying the evolution of proteins. Proteins are biopolymers comprised of amino acids; think of amino acids like Legos that can be put together to build structures. Proteins are remarkable molecules that perform complex chemical reactions that include converting solar light to energy in plants; they also allow humans to smell through olfactory receptors and alert our bodies to detect intruders and fight infection as antibodies. Currently, the fastest growing class of pharmaceuticals are protein based. Proteins can also be used beyond medical applications and can be used as flexible industrial biomaterials. Using proteins to solve technical challenges is also a way to introduce green and sustainable chemical manufacturing. Understanding how to work with and manipulate proteins can help us understand how to better utilize them to solve many of our modern problems.
Advice for anyone considering graduate school
Graduate school is not a backup option. If you have doubts about attending graduate school, join a lab group or participate in an internship at a university to learn and understand what the process is all about. If you do decide to go to graduate school, maintain a hobby!
Accomplishments during graduate career
Recipient of the McKnight Doctoral Fellow Award, Myra Hurt Leadership Award, Randolph Rill Junior Graduate Student Award, selected for the 2018 St. Jude Children's Research Hospital National Graduate Student Symposium (forty-one selected from more than 1,500 applicants), placed first in the Art in STEM Research Student Art Gallery, and served as president of the Biomedical Sciences Graduate Student Association.
Career Aspirations
I aspire to become a member of the scientific community that I respect so much. I have had the honor and pleasure to meet so many people across disciplines that perform research that allow us to advance humanity and understand our universe. I wear my training as a badge of honor.