Charlisa Whyms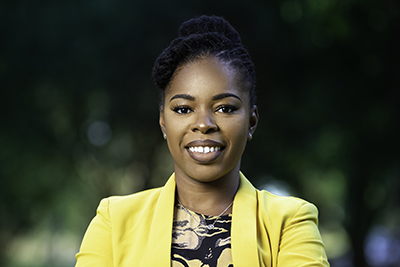 "Increase Minority Representation in STEM Careers"
Why FSU?
I decided to attend FSU for graduate school for many reasons. The first is the rotation program in the Chemistry and Biochemistry Department. My interest at the time of application was very broad, and I liked the fact that I would get to rotate and interact with various labs before I made a final decision on where to pursue my dissertation work. Secondly, when I attended visitation weekend, it was a phenomenal experience, and the atmosphere here in Tallahassee felt right for me.
Motivation to pursue a graduate degree
Before attending graduate school, I taught high school science in Broward County, Florida, for four years. Although I thoroughly enjoyed my teaching experience, I knew that I was not tapping into my full potential or challenging myself intellectually. I was uncomfortable being too comfortable. I decided to pursue a graduate degree in STEM because I am naturally a curious person, and I am able to embrace my curiosity through research.
Importance of research and work
One thing that I never expected to experience in my lifetime is the world being shut down as a result of the COVID-19 pandemic. The emergence of this new virus sparked new research questions that all scientists raced to address. One of the most important questions that we needed to know is how this virus works and who is infected so that we can prevent it from spreading. While I am not currently studying COVID-19, my research focuses on structural and mechanistic studies of CRISPR (Clustered Regularly Interspaced Short Palindromic Repeats) systems that provide adaptive immunity in bacteria. These studies have led to the development of many biotechnologies, some of which are being utilized for COVID-19 diagnostics (i.e., COVID-19 tests). The work that I am doing is important because in the event of a new viral outbreak, we can utilize these systems to help in detection and early diagnosis.
Advice for prospective graduate students
My advice for ANYONE considering graduate school is to take on the challenge. It is one that will push you to be the best version of yourself. It will not be easy, but with determination and a great support system you will persevere.
Accomplishments during graduate school
Receiving Honorable Mention for the 2020 NSF GRFP award cycle and getting highly involved in service in the Tallahassee community! I was invited back to my undergraduate institution, Florida Memorial, to keynote a talk with several undergraduate students about my journey in STEM.
Career Aspirations
I aspire to inspire the next generation of independent thinkers. I am still considering different career paths at this moment, but I know that I want to continue to be the representation needed in a field that is not as diverse as we would like it to be.