Bobbie Renfro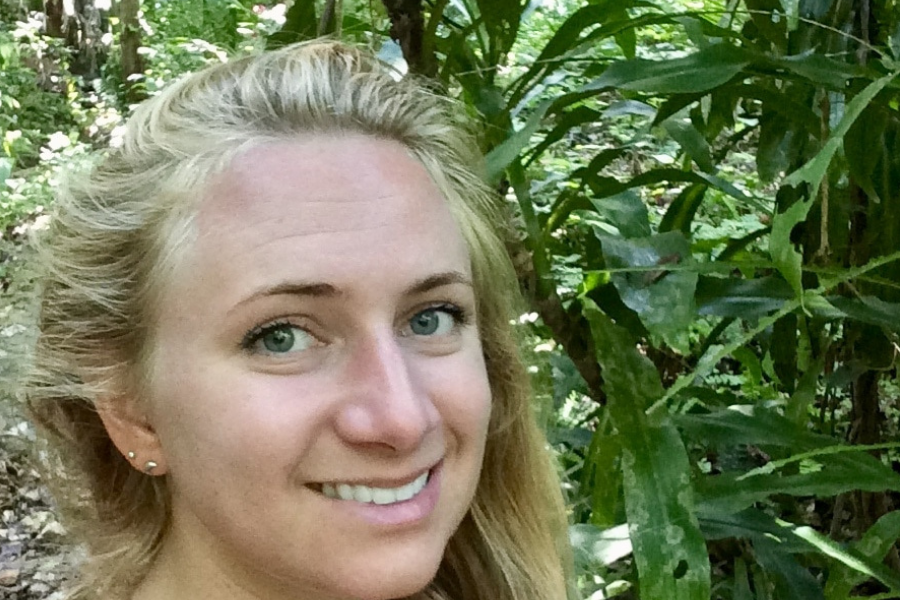 "Building expertise to change the world"
Why FSU?
Three major factors played into my decision to pursue my doctorate at FSU. One reason is that the Ecology and Evolution section of FSU's Department of Biological Science is famous for its intense reformation of how the world conducts ecological research. I knew many great minds had come from here and were still working here, ensuring that I would receive the rigorous education I need to become a leader in the field of marine ecology. Another draw of FSU is the collaborative and communal nature of the university and specifically of the Department of Biological Science. Finally, the third and most important reason I chose FSU was that the specific research interests of the professors aligned with my own. In particular, I am in the laboratory of Dr. Janie Wulff, a world-renowned marine sponge scientist. Prior to pursuing my PhD, I worked in Honduras as a SCUBA diving instructor; I had admired the bright colors of the sponges that wowed my dive customers. Now, at FSU, Dr. Wulff is mentoring me in the study of these poorly understood creatures and how humans may be affecting their vital roles in the coral reef ecosystem.
Motivation to pursue a graduate degree
Earning a doctorate in biology will allow me to combine my interests in teaching, research, and outreach related to tropical marine ecology and conservation into a single career as a professor.
Importance and impact of research
The extraordinary biological diversity of coral reef ecosystems supports fisheries and tourism industries, and the physical structure of the reef is important to many coastal cities for shoreline protection. These services and the intrinsic value of coral reefs are increasingly threatened by human activities that lead to habitat degradation. While corals build the reef framework, they alone cannot support these complex ecosystems. Sponges help corals support the reef ecosystem by acting as the water filter of the reef. Understanding how sponges respond to human influences like nutrient pollution from sewage and fertilizer runoff will allow us to design environmental management strategies that maintain the role of these vital members of the coral reef community.
Accomplishments during graduate school
I am most proud of the professional relationships I have formed with people and institutes that are working tirelessly to study and preserve our underwater world. In particular, I am proud of my connections to Keys Marine Laboratory, Key Dives, Islamorada Conservation and Restoration Education (I.CARE), and the Smithsonian Tropical Research Institute. In 2022, I received the American Academy of Underwater Sciences Kevin Flanagan Travel Award. In 2021, I received the Mote Protect Our Reefs Grant in collaboration with the Islamorada Conservation and Restoration Education organization in the Florida Keys. In 2021, I also received the William R. and Lenore Mote Eminent Scholar in Marine Biology Research Assistantship (also received in 2019 and 2018). In 2020, I received the American Academy of Underwater Sciences Doctoral Scholarship. In 2019, I received the Horace Loftin Endowment for work in Panama, the Gumbo Limbo Nature Center Gordon J Gilbert Grant, the International Women's Fishing Assoc. Graduate Research Grant, and the Smithsonian Tropical Research Institute Taxonomy Course Fellowship. In 2018, I received the Robert B. Short Zoology Scholarship.
Advice for prospective graduate students
Take your time! There is no one correct route to many careers, so take the time you need to live a fulfilled life and enter graduate school with a clear understanding of why you need to be there. What is your goal job? Does it actually require additional schooling? Have you tried some form of this job (maybe working as an assistant to the person you want to be someday) to know you enjoy the reality of the job as much as the idea of it? I cumulatively took three gap years after completing my bachelors. I worked as a research technician for a year before deciding a Master's of Science degree was what I needed for the next level of job I aspired to attain. Then I worked for two years in teaching, research, and outreach jobs that used my M.Sc. degree before deciding that I needed a PhD to combine all of these interests into a single career as a professor.
Career aspirations
After completing my doctorate in biology at FSU, I plan to find a position as a university professor. Through a career in academia, I hope to inspire and guide new generations of biologists, engage members of the public in coral reef research and restoration projects, and use my research finding to improve sustainable management of the ecosystem to which I have dedicated my career.