Adrianna Tilton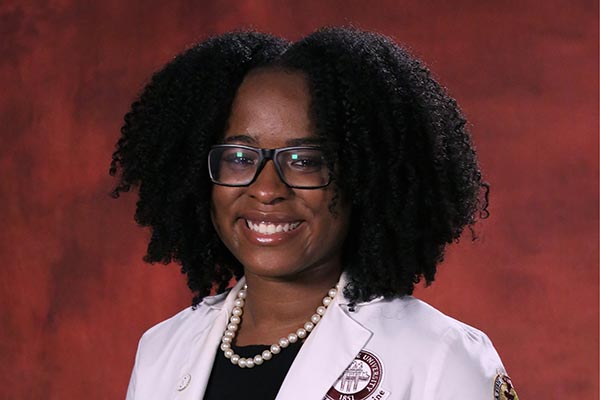 "Serve as an example for others."
College: Medicine
Degree: Doctorate
Video Credit: Enrique Toledo
Why FSU?
During my sophomore year at the University of Central Florida, I began working as a lead mentor for FSU College of Medicine's SSTRIDE program. In this position, I tutored local middle and high school students in an after-school program, where I learned more about the College of Medicine's mission to work with underserved and minority populations and was able to build relationships with the school's faculty and staff. I also appreciated how early and often students gained clinical exposure.
What motivated you to pursue a medical degree?
Watching my mother go back to school to obtain a degree in nursing exposed me to the healthcare field early on. The science behind medicine has always intrigued me. Applying objective knowledge and data in creative ways makes clinical medicine such an exciting field. I am particularly excited about the field of psychiatry since the treatment of patients is multidimensional and not always "one size fits all."
Importance of research and work
My interests in mental illnesses and addiction have led me to become increasingly aware of the stigmas associated with them. Those affected commonly experience feelings of shame and isolation, which only perpetuates the nature of their disease. I hope that by educating the public and my future patients, these stigmas will continue to be broken down. I look forward to the next generation of physicians continuing to treat these patients with understanding, compassion, and respect.
Advice for prospective graduate students
Believe in yourself and find others who believe in you, too! Mentorship is very important, so identify people who have done what you hope to accomplish. They will be valuable resources in your career and personal life. Graduate school is challenging, but it's a lot easier when you aren't doing it on your own.
Accomplishments during graduate school
I am the co-founder of the FSU College of Medicine - Addiction Medicine Interest Group and an editor for HEAL, a journal that acts as a platform for medical students, faculty and staff, and members of the community to share and impart knowledge gained from experience. I've recently published an article in Surviving Medicine titled Dear MedStudents: Prove Yourself and was also selected as a fellow for the Dr. June Jackson Christmas Medical Student Summer Fellowship with Columbia University's Department of Psychiatry and the Hazelden Betty Ford Summer Institute for Medical Students. I have also created an IG account that serves as a platform for mentorship and a connection to students who I would not otherwise meet face to face.