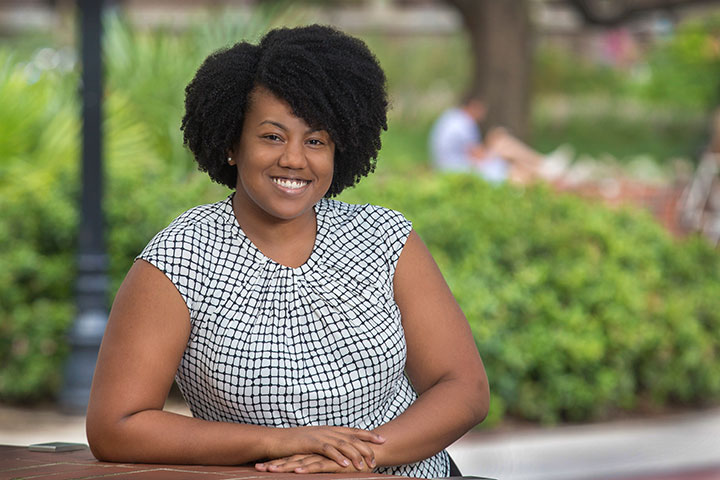 Patrice Williams
Robert Wood Johnson Foundation Health Policy Research Scholar
Urban & Regional Planning
In 2011, I was diagnosed with Polycystic Ovary Syndrome (PCOS), a common reproductive disorder that has the associated risks of depression, stroke, heart attack, anxiety, obesity, diabetes, infertility, and a number of other chronic conditions. At the time of diagnosis, my plan was simple. I would incorporate more organic fruits and vegetables and start out walking around my neighborhood. My plan was short-lived because I resided in a food desert and would have to travel over 10 miles to the most affordable, organic grocer. My neighborhood didn't have sidewalks. The closest and safest green space was 10 miles away and I couldn't afford a gym membership. Initially, I felt helpless. Then I began to wonder if I was the only one experiencing this. How could I make the necessary changes to improve my health, if it was so difficult to gain access to the essential resources? As I began to examine further, deeper questions arose, such as, who determined the land use of this area and did they consider the health ramifications?
Neighborhoods with a high proportion of minorities and low-income residents are regularly faced with higher rates of exposure to environmental pollutants and hazards, lower food security and healthy food options, and inaccessibility to health care services. Consequently, these communities have a higher rate of adverse health outcomes and wider, more persistent disparities in health indicators. The residents of minority and low-income neighborhoods also do not have equal access to the decision-making process that impacts whether they live, learn, and work in a healthy environment.
The passion I have to better understand how we can improve the impact the built environment has on our health, especially for disadvantaged communities, originates from my personal experiences. And I have only begun to scratch the surface in understanding the historical, social and spatial effects. Participating in urban & regional planning and health policy research will allow me to study how to achieve a collective health goal by examining how the actors at play interact and contribute to the development of policies, implementation processes, and influence policy outcomes that have guided the development of the built environments we witness today. This is my driving force in my pursuance of a doctoral degree in Urban & Regional Planning.
Read more about Patrice's award here.