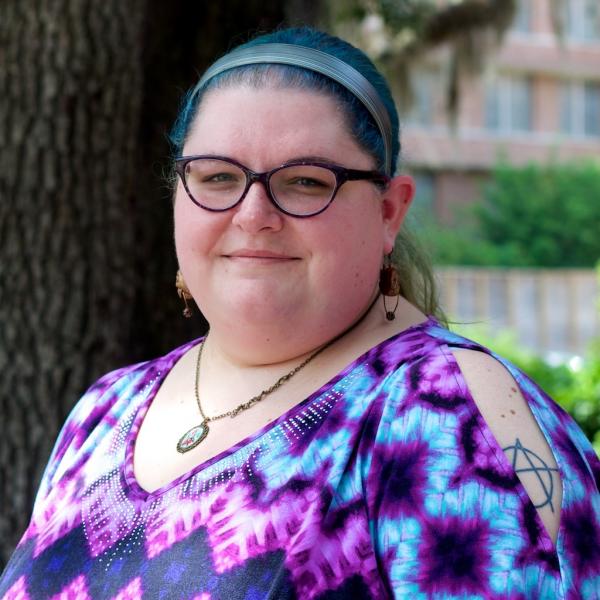 Dawn Betts-Green
Point Foundation Scholar
Library and Information Studies
I grew up in a small, conservative Alabama town, and my safe space, my haven, was our public library.  The librarians knew me by name and left me to wander in the stacks however I pleased.  This was more important than they knew.  At 12, I realized I was a lesbian, and my religious surroundings did not make this a pleasant discovery.  I hid it and searched diligently in the library for help.  I was outed just prior to my senior year and faced constant harassment; the only public space I felt safe enough to be in by myself was the library.  There were few LGBTQ resources on the shelves, but what little I found was comforting.  I entered my discipline to help small and rural libraries (those in the South in particular) be better prepared when people like 16-year-old me wander in.  Though Library and Information Studies (LIS) does a lot in terms of research and practice for LGBTQ patrons, most of the research has been done with a focus on urban areas and everywhere except the Southeast.  Multiple scholars have shown that the rural areas of this region are among the most difficult to live in for LGBTQ young adults.  My research aims to fill this gap, and my dissertation will focus on the collections and the collection development process of librarians in small and rural Alabama libraries in terms of their LGBTQ resources.  The ultimate goal is to develop a comprehensive toolkit they can use to better serve their LGBTQ patrons.         
I am proud to be a member of the 2016 class of Point Foundation Scholars.  The organization seeks to support and nurture LGBTQ students at all stages of their college education.  Obviously, financial assistance is incredibly helpful, but Point also provides LGBTQ mentors and the opportunity to connect with other LGBTQ scholars across disciplines and across the country.  The sense that I am not isolated and alone after all is invaluable and will give me the extra support I need to complete my doctorate and find a career in which I can help the LGBTQ community.